In Altai I had time to think and decided on a change of plans. I now was planning to follow the south route to Ulaanbaatar. The original plan was to cycle north from Altai to Uliastai. Due to being in the winter of Mongolia I decided on the easier and shorter southern route Altai, Bayankhongor, Arvaikheer, Lun, Ulaanbaatar. Easy is a perception of the circumstances and experience.
Photos from this part of Mongolia can be seen here: The south route to Ulaanbaatar
After being sick from food poisoning in Altai I left knowing that the south route to Ulaanbaatar would bring less experiences and desert landscape. The first 130km was paved out of Altai and with a down hill I cycled that until an abrupt end of pavement and back on dirt tracks. Camped in the desert, had a cold night at -28c was still not 100% after being sick so was tough. I woke up early the next day as I knew there was 65km of desert to next village and I wanted to get there. Taking down the tent with a wind and -26c was a nice start to the day. Actually I was not enjoying myself a this point, looking back mainly of being tired and stressed about getting to Bayankhongor but looking back is easy. That morning I decided that if I could get a lift I would take the lift. Well no cars and a head wind was all I got that day. I arrived in Buurtsagan in the dark tired and cold. I asked in a ger where I could sleep and the older man from the family took me to a small hotel of a kind. Here I had to wait for the owner to come and unlock a room. I was down to my socks, no energy after cycling 10hours with a head wind on gravel/sand roads and around -14c to -18c all day. To my surprise they also had a small restaurant were I got a big portion of meat and noodles Mongolian style, this helped on my mood and energy levels. I had great doubts of the coming 200km to Bayankhongor and the weather would be the same and the roads as bad… This is a mind game as I had to evaluate the options and stay safe. The next morning the weather looked okay and I was feeling better in body and mind. So I packed up and left. The weather was better, the road was still sand, gravel and rock well I was positive willing to give it a go. Bombogor a village 75km ahead was a goal but I knew I wouldn't make it in a day.
The game changer! I had pushed/cycled for 30km and was with good mood. When I heard a car coming the only one that morning it was around 11.00 o'clock I looked back a small pickup/van. They stopped and I asked where they where going: Bayankhongor… Wooooww a thousand thoughts went through my mind in a second but my rational self said "can I get a lift to Bombogor", I asked and they agreed but did not understand I think. When car was loaded and driving off they asked "Bayankhongor?" I remember my self taking a breath and saying yes/tzar tzar. That was it, I was on my way to Bayankhongor 160km farther up. It was hard but I had to trust my own fast decisions. It took more than 6hours to get there so I had some time to calm my self and think through the reasons for the lift. In reality being out there with no strong desire to cycle that remote part was the sole reason not to cycle the part. I knew and I know I could have cycled that part but inside me the desire was not there and therefore it was not possible. So at that moment I learned a lesson for myself. If I set of to do a challenge be sure to have the desire in the right place. I was too focused on Bayankhongor and not on the part in between. Found a hotel and could relax in Bayankhongor wanted to stay 2 days before setting off on the last leg of 650km to Ulaanbaatar. The 2 days became 3 due to a small food poisoning again 🙂
650km and I had heard most of the road should be paved. I decided that I would cycle as it was my goal to cycle to Ulaanbaatar, got the desire back and motivated myself for this part. I knew that there would be little more than just head down and cycle. 6days was my goal I wanted to be in Ulaanbaatar on the 6th of February exactly one month since I had left Urumqi and Susannne. That was now my desire and my motivation. Not the landscape or culture just the 650km and then being in Ulaanbaatar. I left Bayankhongor and it felt good on the bicycle, I was less stressed and sure I would make it in time. 10km out of town a climb started and the paved road stopped 🙂 really already a test of desire and motivation I passed the test and the pavement came back on the top of the hill. From there I cycled at a good speed and at sunset I had cycled 110km. As I was thinking of a place to camp an old man came over the hill on the side of the road and made gestures that I should come over and talk with him. I said "Sainbenu" hello and he straght away made the gesture for sleeping and pointed up the hill to a camp of gers and a small stable for the animals. I had seen the gers from the road and had found it too far and camping would be fine. When the old man asked me I could not refuse a chance to interact with the people and for the first time I was invited instead of just showing up in their ger.
Straight away I felt that my reasoning of just cycling was not true I wanted these experiences with the people along the way. The family was friendly and had some stories to share. When we share stories with no common language our imagination has to evolve. Take all impressions and build a story in your head. We all know that a common language makes it easier to communicate. When this is missing can we then still communicate? The answer is yes and it is as rewarding if not more, when sharing a story with no common language and you can see the person still understand you. Well this lovely herders family living in their ger had more to share. Soon the son and a friend arrived carrying a metal detector. Sat down and drank some tea as always in the ger. Then I asked what they did with the metal detectors. they replied "Alt Alt" this word I had heard before and understood that it was gold. They soon showed me some of their findings. I enjoyed a nice evening with the people and slept well on the floor in the ger.Left in the morning with the whole family waving me off a nice feeling, Mongolian hospitality amazed me again! A good day to cycle a 110km in -10c to Arvaikheer
Where i found a hotel. Had a great dinner at a local Korean restautant. Slept like a rock great stuff. Packed up in the morning and was on the road, a sunrise, a nice and chilly morning around -16c. Soon the sun came out and the temperature rose to -8c to -4c nice! Cycled on and after 40km road works started there was a small truck stop (5 ger's and a small house) I asked a man if I could cycle on or if I should follow the cars/truck on the diverted route into the sand and rocks. It seamed like I could follow the road and cycle around the gravel road blocks. Soon the road blocks really blocked the road and I had to climb over them it worked out. The temporary road looked alright so when the roads crossed I followed the dirt track up to a small village with some nasty dogs. "Mongolian dogs are not too bad". Stayed on the dirt track along the new road with its roadblocks of gravel. Sun was going down and it was getting cold when to my surprise a small collection of houses appears in the distance maybe 5km-8km ahead. Well I decided to have a look and see if I could find a place to sleep. There was a small shop and they had an extra room where I could sleep. I cooked my own food on their stove as they weren't interested in sharing their food with me which was fine. Only did I not know that they were planning to leave at 5am to go to a market the next morning…
So at 5am I was woken up and had to leave we agreed that I could just make my breakfast and eat it before leaving.. So at 5.45am I was on the bicycle pitch dark and cold -20c well nothing else to do than cycle 🙂 Soon I realised that i had a flat tire, I pumped up the tire a few times and hoping for the temperature to rise. As you might have guessed this became a long day 160km. Luckily it was a beautiful day with high sun a small tail wind. So fixed the tire in the sun at -4c was fine. At camp time i was lucky again a small collection of houses and this time they gave me my own ger. After sharing dinner they showed me a ger where they had lit the stove and I could stay there for the night, great !
I cooked my breakfast as always while cycling in the cold I have found it nice to have my food prepared fast so my morning porridge is ready mixed in a small zipper bag add hot water and eat 🙂 Now only 170km to Ulaanbaatar, a great feeling which motivated me all day. Did a 110km and camped off the road up a small mountain where I found a good spot. Looked as a spot for a ger in the summer. In the middle of the night I was woken up by some steps around my tent I soon realised it was a group of horses they were curious about the tent but I went back to sleep. In the morning i was surrounded by 50 horses, Welcome to Mongolia.
Wow the day of Ulaanbaatar had been looking forward to this day and to give Susanne a big hug 🙂 Reached ULAANBAATAR around 15.30 met Susanne on Sukhbataar square.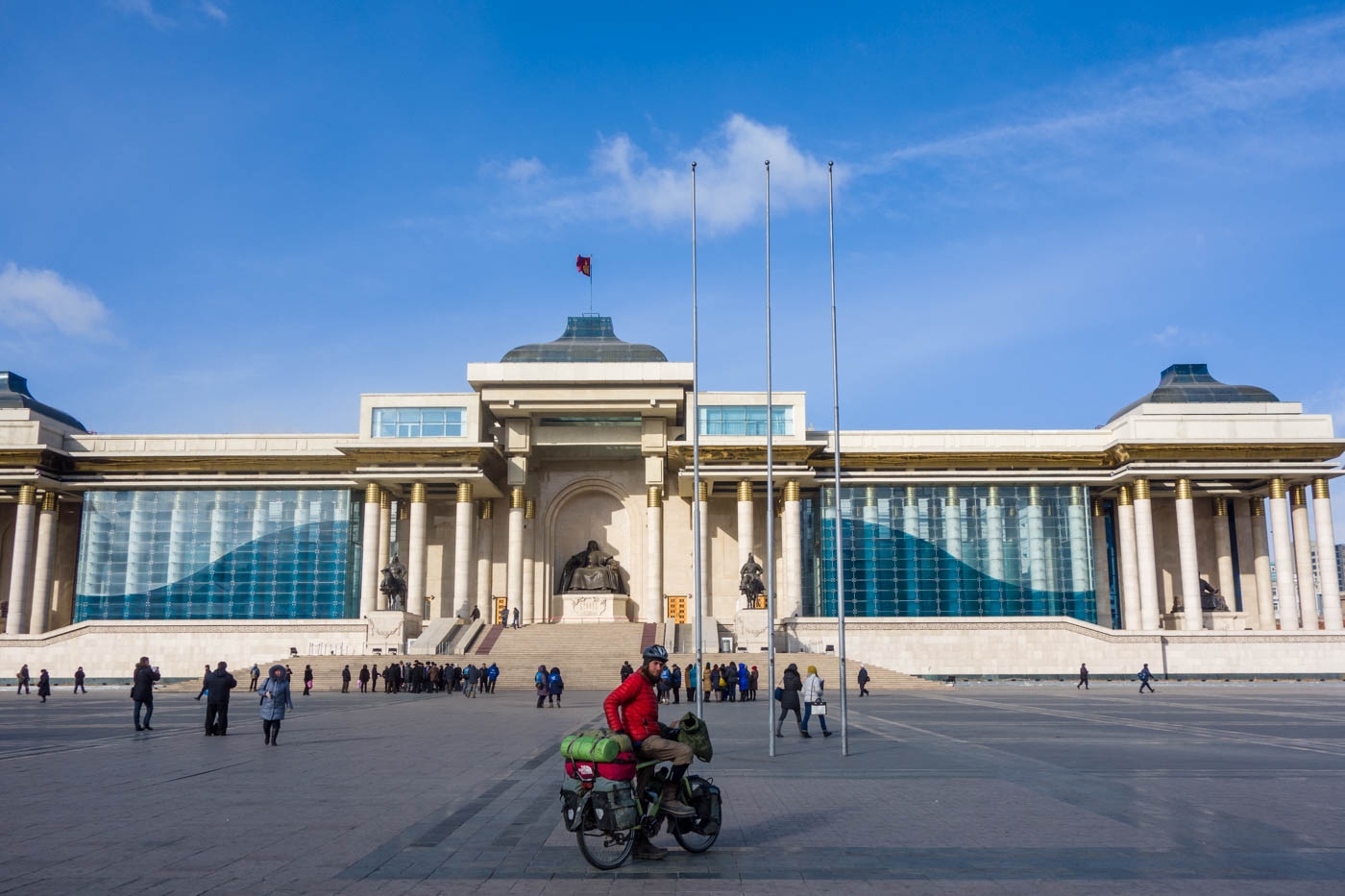 I did it! What a ride it was! This part of our journey was really a point of realisation. I have learned things about my which was only possibly out there! Now we rest and make plans.
Route from GPS can be downloaded as gpx: Altai-Bayanhkongor-Ulaanbaatar