The diversity of Turkey is huge. We have left the modern city of Ankara, cycled through parts of Central Anatolia and exchanged the city for very rural and traditional areas such as Selime and small villages south of Cappadocia. We came through Mustafapasa where traditional and modern mixes with each other in a very pleasant way.
All photos can be found Ankara to Guzelyurt, Ihlara valley, Guzelyurt to Goreme, A sunrise of balloons
Subscribe to Blog via Email
We are now close to Goreme, which us almost not Turkey anymore, tourism has taken over and it is hard to see what is Turkish and what is set-up to boost tourism. We find it all interesting but do take it all into account and try to reflect in what us good for the people here and how we would be able to contribute to that.
Turkish hospitality is a great gift and brings us many surprises. Actually also Dutch hospitality has surprised us a few times, but more about that later 🙂 first we go back to Ankara where we left off last time.
We had a lot longer stay in Ankara because Susanne needed to get better and we got the reference number for the Iranian visa, so we decided to put that into procedure. Long story short: we made pictures with headscarf, photocopies of our documents, went to the embassy three times and were rewarded with our visa on the final visit. All the time staying with Sabit, our really friendly Warmshowers host. Ankara is a nice city and we especially liked it because it is a city where everyday Turkish life happens, unlike Istanbul which is crowded with tourists. When we were there there were also protests against the government because of the mining accident and a lot of police was visible in the streets. We visited the old city, the Anatolian museum, which provided us with more insight into the history (Turkish, Ottoman, Hittites, etc.) and we met up with Marten who we had met before in Istanbul see his website www.martenlagendijk.com .
Invalid Displayed Gallery
With our Iranian visa in our passport we left Ankara on our way to Cappadocia. Cappadocia is an historical region in Central Anatolia and you can read more about it here: http://en.wikipedia.org/wiki/Cappadocia. We had planned to go quite directly but an encounter with a fellow bicycle tourer from Japan, Yuki, made us reconsider and because we had time, we decided to visit some highlights of the area. Some of the highlights were: the salt lake Tuz Golu, Ihlara Valley, Guzelyurt and Monastery Valley and Mustafapasa.
In Ihlara valley, at the Selime Monastery (a rock hewn church, which was very nice) we met a French couple Monique and Gilbert and a Czech couple Arthur and Andrea who both walked the valley up in stead of walking down. It was quiet and serene until we reached the part which is mostly done by tourists and groups started popping up everywhere. We ended up in a quiet section again and got a bus back to our starting point Selime. The valley is known for its rock hewn churches, there are caves everywhere and in earlier days monks believed it was a quiet and peaceful area. The Lonely Planet (which is not so lonely anymore) says: "This is one of the prettiest strolls in the world. Following the river, hemmed in by jagged cliffs, as it snakes between painted churches, piles of boulders and a sea of greenery ringing with birdsong and croaking frogs, is an unforgettable experience." The day before we had camped 5km from there next to the river after meeting a Turkish family. They invited us for their BBQ after realizing we were Dutch because their daughter in law was Dutch/Turkish. It was nice to be able to communicate in Dutch with her and learn more about the family, Turkey and the area. We also got stopped in Selime by a schoolteacher and he wanted to practice some English with us. Before we knew it we were surrounded by kids asking what our name is. Was a nice beginning of the day!
Invalid Displayed Gallery
We weren't in a rush because we are expecting friends to come over in Cappadocia. So we knew leaving Ihlara valley that we didn't have to rush. In Guzelyurt while taking a break after ascending a steep hill we were invited for tea at a small hotel in a 200 year old Greek style building. After tea they said we could stay and camp in the courtyard of the hotel as a gift. We had done only 20km but really couldn't refuse the offer 🙂 it is a really pretty boutique hotel and the family owning the Osmanoglu Hotel is very friendly and informative about the area. For information: www.osmanoglukonak.com.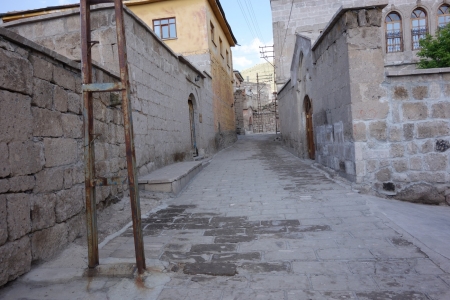 We checked out Monastery Valley, saw more of the churches in the rocks, but also two small underground cities with tunnels going down. Little bit creepy! We talked with the imam at the church mosque, who was mowing the garden of the mosque and heard more about the Greek/Turkish population exchange in 1924 (which was a result of the Turkish war of independence). We went to chill at the hotel courtyard and suddenly the Czech couple, we had met before, walked in. They had stayed there the night before and were staying another night. They invited us for dinner which was really nice! The next morning we received complimentary borek which made our porridge breakfast extra special 🙂
Cycling out of Guzelyurt we crossed a high pass, met a really nice dog during our lunch break which we named 'Smokey' and met 4 Belgian cyclist cycling in the area for one week. They recommended us a small road through a valley so we were going to check that out. First we wanted to take a shortcut towards Derinkuyu. The shortcut lead us through a village which gave us an intense experience. The road into the village was very steep and three kids followed Martin part of the way up and then followed Susanne because they could run her pace up the mountain. Three kids became more and before we knew it we both had a group of kids asking 'money, money', pointing at our steering bags that they wanted what was hanging on them and continuously following us. All the time we were pushing ourselves up this steep hill. At the edge of the village, cycling into it, we got a break because they stopped and then we noticed there was a funeral going on. We tried to make our way through as fast and quiet as possible until a boy was hanging on the back of Susanne's bike. He wanted us to be quiet because of the funeral, which we were. We were then surrounded again by a group and decided to move on. Again being asked for money. While cycling out of the village we were on a gravel road and not going fast. Two boys drove out with us and eventually we had stones thrown at us. A very intense experience and something we learn from for the countries to come and the east of Turkey of which we have heard that it is more common that stones are thrown. We also felt the need to talk about this and reflect about the how and why. This is so far from us that the background makes us intrigued.
The valley that the Belgian cyclist recommended was nice and we decided to do two off road sections in two valleys, this time passing through nice and quiet little villages. The mountains here are absolutely gorgeous! Cycling is tough with a lot of up and down but very much worthwhile!
Invalid Displayed Gallery
The small village Mustafapasa was very nice. We had a good feeling about the village with not too many tourists and people were dressed in a very mixed fashion. We found an interesting building (the historical medresah, the former theological school) and had a look inside. It was a building from 1892 which was now used as vocational institute to educate hot air balloonists and flight attendants among others. We spoke with a few people working there and also with a group of interested female students who wanted to practice their hospitality skills. The building even had an aero plane on the rooftop.
We had a desire to sleep in a cave and past some really good ones, but we were not far enough yet. So we cycled all the way to Goreme and then could not find a cave that we could get to and was not overrun by tourists. We decided to sleep in the valley close to the take-off point for a balloon. We had planned to get up early and maybe see some balloons. What we did not realize was that we were almost in the center of where the balloons would fly. We woke up to the sound of hot air balloons filling up and had one of our best sun rises ever!
Invalid Displayed Gallery
We then decided to find a campsite, have a shower, do some internet updates and chill out a bit. We have been surprised by Dutch hospitality here, being invited for tea and yesterday also for an Indonesian dinner, with songs and a guitar. So really nice to see openness in a lot of people. Kaya Camping is where we are now and it has started to rain… Hopefully the weather clears up and we can enjoy time with friends who are arriving today 🙂